About Me: Sam Lo
I'm an Osteopathic manual practitioner with 20+ years of experience in both Eastern medicine and Western complementary therapies.
My unique 'East meets the West' philosophy enables me to effectively help my patients with diverse and multi-faceted aspects of pain management.
With 20+ years of experience, were you expecting me to look "older"? No worries, I get that all the time. Let me explain.
How it all started…
In 1994, I was involved in a devastating bike accident that left me paralyzed.
Western physicians and "specialists" recommended I undergo surgery. Luckily, my mom insisted that we seek alternative healthcare options. She was recommended to Dr. Lim, a Chinese Medicine practitioner in Scarborough.
The minute I walked into Dr. Lim's clinic, I started having second thoughts. The clinic was in an unclean, tiny room behind a bookstore where mice scurried around the floor. Gulp.
Little did I know I would become her apprentice for the next 12 years…
Under Dr. Lim's care, I was walking pain-free in just 4 weeks. And I knew that I had to learn the ins and outs of Chinese Medicine and its magnificent power to heal.
Over the next 12 years, she took me in as her son and I learned how to diagnose pulse, perform acupuncture, and prescribe herbal medicine. For that, I am forever grateful.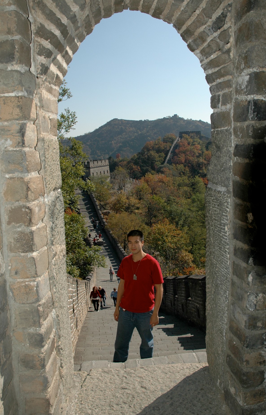 To further my knowledge and ability to heal, I attended the Michener Institute to learn acupuncture and Chinese Medicine, and I also learned massage therapy as well as Hydrotherapy at the Canadian College of Massage.
After my studies, I went directly to the source: China.
While in Beijing, I interned at two major hospitals learning. I was like a sponge – learning everything I could about Traditional Chinese Medicine.
When I returned to Toronto, I practiced massage therapy and acupuncture by setting up my own clinical office at Lawrence and Leslie. I also practiced at the Roehampton Clinic located at Yonge Street and Eglington Avenue. Subsequently, I worked for Proctor & Gamble Head Office as well as American Express as an on-site therapist for over 4 years.
In 2010, I joined the Neighbourhood Clinic located at Mt. Pleasant and Eglington, apart from continuously running my own clinic. I started working as a TCM practitioner and massage therapist and also attended the Canadian College of Osteopathy for 7 years.
Where I am today…
Although I now hold my Diploma in Osteopathic Manual Practice (finally!), I have an undying thirst for knowledge and an ambitious goal to become the best healer in the world.
"To find health should be the object of the practitioner. Anyone can find disease." – A.T. Still, founder of Osteopathy
If you want to learn more about how Osteopathy, Massage, and Chinese Medicine can help you live a happy and healthy life, contact me today.
A few memories…